Get the message: No Advantage! Right?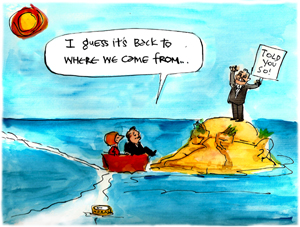 Cartoon: Eureka Street
Potential visitors to Australia can watch You Tubes showing majestic landscapes and fine shopping.

'Please come,' they say, 'stay and enjoy our beautiful country's advantages.'
Now there's another program available, though carrying a starkly different message.

Titled: No Advantage the 40-second clips are pitched to the foreign asylum seekers in Indonesia keen to cross the Indian Ocean but facing tough new laws designed to swamp their plans.
Instead of making it to Sydney they'll be sent to Manus Island off the northern coast of Papua New Guinea, and the Micronesian island of Nauru.
This tiny South Pacific nation was once known as Pleasant Island, but the videos don't feature slim couples downing cocktails before dashing into shimmering surf.
Instead the images show basic barrack-style accommodation designed to show that life in these poor and isolated outposts will be bleak and boring. There'll be guards and wire fences.
Just in case viewers don't get the message a stern male voice says "No Advantage" five times.
Nauru, a textbook example of a failed state, has only 10,000 residents, but will house an expected 1,500 asylum seekers. No shopping malls, little to do, nowhere to go. Better stay in Indonesia patiently waiting to leave when officially approved.
But will the 4,000 registered – and a similar number of unregistered - Afghans Iraqis and Sri Lankans, packed in cheap hotels around the Archipelago and sustained by international aid pittances, watch and take heed?
Unlikely. More than 1,000 men, women and children have drowned trying to reach Australia since 2001 – the latest last month. (Aug)

Such awful deaths should deter all but the most desperate from clambering aboard decrepit fishing boats crewed by kids – but they don't.
Political and religious freedom, high wages and quality lifestyles make Australia a magnet for the persecuted and fearful.

Along with the US, Canada and a few north European countries, Australia is the great refuge, the promised land of opportunity and safety, work and welfare – a destination worth a few years on a little island, for everyone knows the wait won't be forever.
The videos are the latest strategy in a complex series of policies rapidly introduced and passed last month (Aug) by the Australian Parliament.
They follow the release of a 162-page report compiled by a three-man expert committee appointed by the government.

This was headed by former defence chief Angus Houston and supported by
refugee advocate Paris Aristotle and foreign affairs academic Michael L'Estrange.
It was a trio of such integrity and authority that its views had to be taken seriously.
They were, breaking the deadlock that has gripped Australian politics for the last few years as the boats kept coming. Foreign Affairs Minister Bob Carr has forecast 180,000 boat people a year if the deterrents don't work.
Houston said his 22 recommendation report was: "Hard-headed, but not hard-hearted
; that practicality and fairness should take precedence over theory and inertia; and that the perfect should not be allowed to become the enemy of the good."
In brief those with money to buy passage on a boat will no longer have a headstart over those with equal or better claims for resettlement but no dollars or desire to risk their lives.
Refugee support groups remain unhappy even though numbers accepted will immediately jump from 13,500 to 20,000 a year.
The previous government of Liberal John Howard shunted asylum seekers off to Nauru and Manus. The boats stopped coming, but the refugees eventually got to Australia and the camps closed.
The Jakarta-based people traffickers reopened their businesses after 2007.
In that year the Labor Party took office and dumped Howard's so-called Pacific Solution claiming it was cruel to make people wait years to be processed.
But that's now their fate.
Boat people will remain in Nauru and Manus for as long as they'd stay in Indonesia or Malaysia if waiting to access
what the Houston report calls "regular migration pathways and established international arrangement
More likely to deter is a stop to family reunions through the special humanitarian program for those arriving by boat.
In the past men who've made the trip and got permanent residence then called in their relatives.
Houston also
recommends "bilateral cooperation on asylum seeker issues with Indonesia be advanced as a matter of urgency."
This reinvents the wheel.

Indonesia and Australia already have long-standing talk tanks.

They include the Bali Process on People Smuggling, co-chaired by Indonesia and Australia.

It has 46 members and has been in place since 2002.
How effective? The figures speak: In the past ten years about 410 boats carrying around 25,000 people have sailed to Australia.

In the week following Canberra's acceptance of the Houston recommendations nine boats quit Indonesia and delivered their human cargo.
If you'd still like to visit the Great South Land and cuddle a koala don't be deterred by all this negativity.

Provided you've got the cash for a holiday, a visa and intention to return home you're welcome. Just don't come by boat.
(First published in The Jakarta Post 13 Sept 2012)